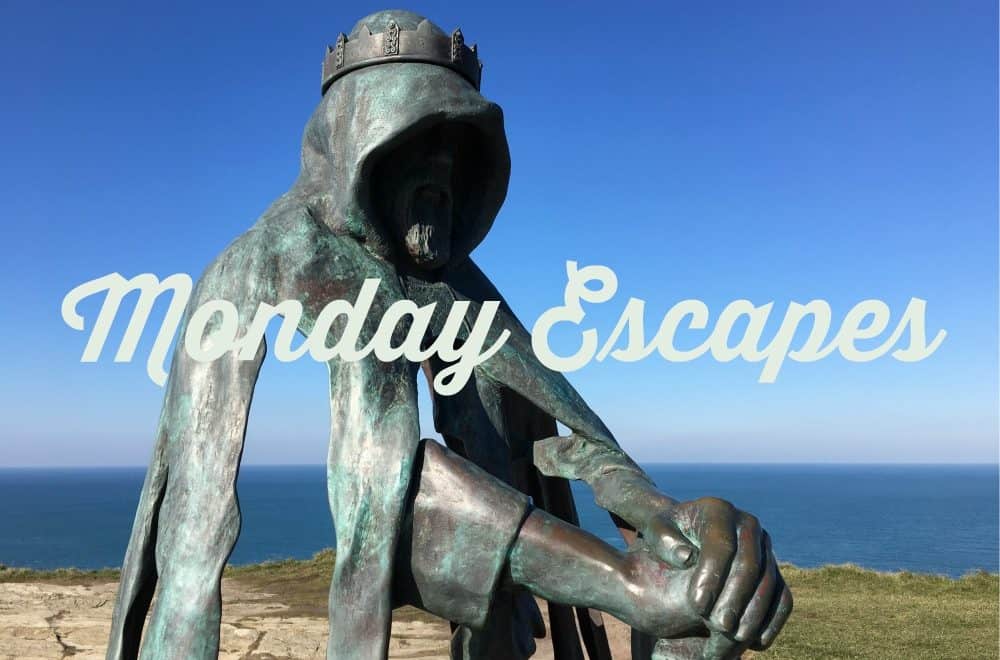 Monday Escapes 05/03/18
Wow! What a fortnight of weather we've had the in the UK. Just after the last Monday Escapes we headed to Cornwall for a short break during which we basked in sunshine on the beaches (albeit in our bobble hats). Then, just as we thought Spring had arrived, last week 'The Beast from the East' stormed through the country. It's very rare for us to get snow on the South Coast of Devon but by golly we got it this time!
The kids were off school and nursery; Mr Tin Box had to hitch several lifts to get home from where he's been working during the week in Cornwall; and we made the girls' first snowmen. We were lucky not to have had any problems due to the adverse weather but I'm thankful that things now look to be warming up. Not least because it's less than two weeks until I board a plane to Italy with the other Monday Escapes ladies and an extended group of UK family travel bloggers. Yippee! Our next Monday Escapes will be brought to you live from Tuscany.
What have we been up to?
Epic sunsets featured a lot during our weekend in Cornwall. This one was captured at Porth Beach which is just down the road from where we stayed at Sands Resort Hotel & Spa. You can read more about this hotel in the post I've linked up today.
While in Cornwall we spend a lot of time enjoying the Atlantic coastline including a visit to somewhere I've wanted to tick off my Cornish bucket list for a while. Legend has it that the site of Tintagel Castle is where King Arthur was conceived. It's a myth of course, but we did enjoy the views and this striking statue paying homage to the story.
And I couldn't leave you without one Devon snow picture. Mr Tin Box captured the chocolate box cottage during part of his journey home. By this point no cars were moving on the roads and walking the final few miles was his only choice. The upside was discovering picturesque places like this on the way.
Over on Cruising with Kids we've have been chatting about the explorer academy on Celebrity Cruises, its wonderful how kids can learn as they travel and Celebrity seem to be working hard on getting the right balance between education and fun. We also have a few exciting trips planned, including a cruise onboard Royal Caribbean's Navigator of the Seas for Lisa, myself and our kids.
Taking part in Monday Escapes
This weeks Monday Escapes is being hosted by Extraordinary Chaos and Karen over at Mini Travellers You'll find the link up tool on Sarah's post.
Monday Escapes is all about looking back at wonderful, happy travel memories and sharing them with others. It doesn't have to be about a trip abroad or even be a written post. If you want to share your favourite snapshots – whether it's a famous sight, scene, dramatic view or even a favourite family photo, then please feel free to link those up, too. Likewise, posts don't have to be about holidays or weekends away, they can also include day trips, walks, attractions – any travel experience that you want to share.
The linky is run by Karen from Mini Travellers, Sarah at Extraordinary Chaos, Lisa from Travel Loving Family and myself.
We are also absolutely delighted to link up with Lonely Planet to offer our number one favourite blog post of the fortnight either a destination guide, or a title from the Lonely Planet Kids range. (See T&C's below). Just another great reason to link up with Monday Escapes!
What's in it for you?
The number one thing is you'll be sharing your fantastic posts with a like-minded community and grabbing some travel inspiration for yourself. As a bonus you have a chance to have your blog post featured on all four of the hosts' blogs each fortnight, introducing your blog to even more people.
Our favourite posts from last time
Lisa loves this guide to Dubrovnik by Dear Mummy Blog. "I've haven't yet watched Game of Thrones (I'm clearly missing out) I have however been to Dubrovnik several times and like Baby Isabella's mum fell in love with the walled city. It should be on the top of everyones travel wish list!"
Lisa is a huge fan of getting off the beaten track when on holiday and so this post by
Esther at Your Dutch Guide
really appealed to my adventurous side. She shares the hidden gems in the north of Amsterdam, the places she loves to take family and friends when they visit her. If dining in a sea container and swinging from a swing set on top of a skyscraper sound like something you would enjoy check it out!
This post
 on
Becoming a Traveling Family
made Claire laugh out loud. "I read so many family travel blogs written by women that it's nice to get an honest opinion from a dad. And, in case you're wondering, I'd have totally karate chopped the person sneaking into the plane loo ahead of Mr Becoming A Traveling Family."
Claire has read lots of similar posts, but this one about why the 5 Lost Together Family travelled with young kids really struck a cord with her. They've given their kids some epic experiences that no classroom can replicate!
To find out who we have chosen as the winner of the Lonely Planet guide see Sarah's post.
So how do you join in this time?
* Link up one post/photo – old or new using the InLinkz tool. **Sarah is our host this week over at Extraordinary Chaos.**
* Please make sure to include the Monday Escapes badge at the bottom of the post, on your site, or a link back to the hosts.
* Posts are anything travel-related, and can include photos, reviews, days out, attractions and walks – at home or abroad.
* Comment on posts by the co-hosts and at least two others. Blog hops only work if you share the comment love. That's why they're so great!
* If you tweet any of us your links @minitravellers @sarahjchristie @tinboxtraveller or @travellovinfam, please use #MondayEscapes and we will be sure to retweet.
Monday Escapes will go live every two weeks, alternating between the hosts and will be open Monday to Wednesday. Every fortnight we will be giving a shout out to some of our favourite posts and photos.
There is also a Monday Escapes Pinterest Board – so if you'd like to start pinning some of your favourite photos, do get in touch.