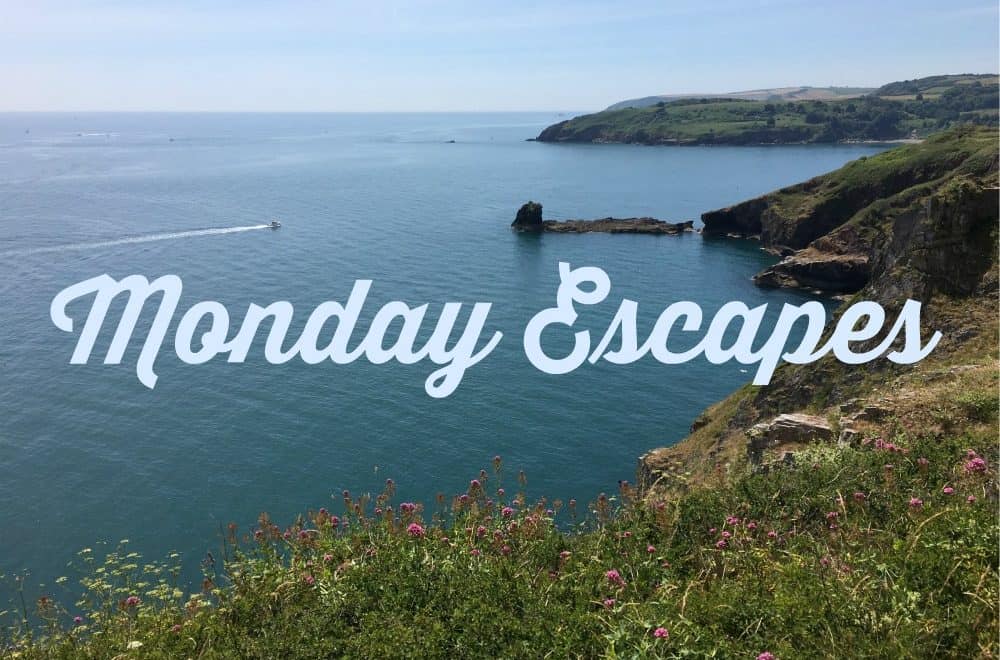 Monday Escapes 02/07/18
Hey there blogging friends and travel fans. I do hope you've been enjoying the same amazing weather we have here in Devon, England. It's lifted my spirits and given us plenty of reason to spend time outdoors. Before I launch into what we've got up to and the rest of Monday Escapes…
…we have some news
As a team, Lisa, Sarah, Karen and I have decided that we are going to step away from Monday Escapes. We love our little community but are struggling to balance our time between our blogs, families and travels. This will be our last link up of Monday Escapes *weeps* but we hope you understand.
Thank you all for supporting us over the years and if anyone wants to pick up the Monday Escapes mantle just let us know.
Now, what have I been up to this past fortnight:
We spent this fortnight at home in Devon and despite living her nearly three years now it's beaches still dazzle me. When we stopped at North Sands near Salcombe for an ice cream and paddle we could have been on the Mediterranean. Salcombe is a must visit Devon town if you are visiting the area.
Mr Tin Box is working away a lot in June and July so when we had him home for 24 hours last weekend we made the most of it with a walk at one of our favourite South Devon beauty spots, Berry Head at Brixham. The girls loved spending time with him and it was fun to pretend he didn't need to go away again…at least for a few hours. Moments like this are precious.
As well as enjoying time in Devon I've been busy writing about our recent dog-friendly glamping break in Cornwall, things to do in North Devon with kids, UK staycations and top island holidays.
I've also got a giveaway to win a Energizer smartphone worth £299!
Over on Cruising With Kids Lisa has been out to France checking out all of MSC's exciting plans. We are working with them as ambassadors for their new ship Bellissima which we are all super excited about. And Donna has been sharing her tips on getting the best out of drinks packages, which in itself is a dark art.
This weeks Monday Escapes is being hosted by Sarah at Extraordinary Chaos and Karen at Mini Travellers. You'll find the link up tool on Sarah's blog.
On to Monday Escapes…
Monday Escapes is all about looking back at wonderful, happy travel memories and sharing them with others. It doesn't have to be about a trip abroad or even be a written post. If you want to share your favourite snapshots – whether it's a famous sight, scene, dramatic view or even a favourite family photo, then please feel free to link those up, too. Likewise, posts don't have to be about holidays or weekends away, they can also include day trips, walks, attractions – any travel experience that you want to share.
The linky is run by Karen at Mini Travellers, Sarah from Extraordinary Chaos (this week's host) and Lisa from Travel Loving Family and myself.
We are also absolutely delighted to link up with Lonely Planet to offer our number one favourite blog post of the fortnight either a destination guide, or a title from the Lonely Planet Kids range (the guide can be delivered to winners in the UK and Europe only). Just another great reason to link up with Monday Escapes!
What's in it for you?
The number one thing is you'll be sharing your fantastic posts with a like-minded community and grabbing some travel inspiration for yourself. As a bonus you have a chance to have your blog post featured on all four of the hosts' blogs each fortnight, introducing your blog to even more people.
Our favourite posts from last time
Claire said: "This hideaway discovered by Keri from Ladies What Travel sounds like the perfect place to unwind in the mountains. I'd love a pot of tea on the balcony with views of Olympus."
And she also said: "I'm a bit biased because I went on this trip with Catherine but I loved all the extra details she's added into this post about our day in Sant Cugat. I've learnt a lot more about the wonderful places we explored."
Lisa loved this honest post by the Gilberts at Learning Brave who took their kids on a sightseeing drive to the Austrian Alps. An experience neither of them will ever forget I'm sure!
And Dan and Linda's guide to day trips from Paris. "Surely a a trip to the city of love followed by a trip to the coast or countryside is a winning combo?"
To find out who was our favourite head over to Sarah's blog.
So, how do you join in this time?
Link up one post/photo – old or new using the InLinkz tool in Sarah's post.
Please make sure to include the Monday Escapes badge at the bottom of the post, on your site, or a link back to the hosts.
Posts are anything travel-related, and can include photos, reviews, days out, attractions and walks – at home or abroad
Comment on posts by the co-hosts and at least two others. Blog hops only work if you share the comment love. That's why they're so great!
If you tweet any of us your links @minitravellers @sarahjchristie @tinboxtraveller or @travellovinfam, please use #MondayEscapes and we will be sure to retweet.
Monday Escapes will be moving on from this month. If you would like to take it on then let us know. We'll share our favourite posts in a fortnight and let you know whether you can link up elsewhere in the future. SaveSave