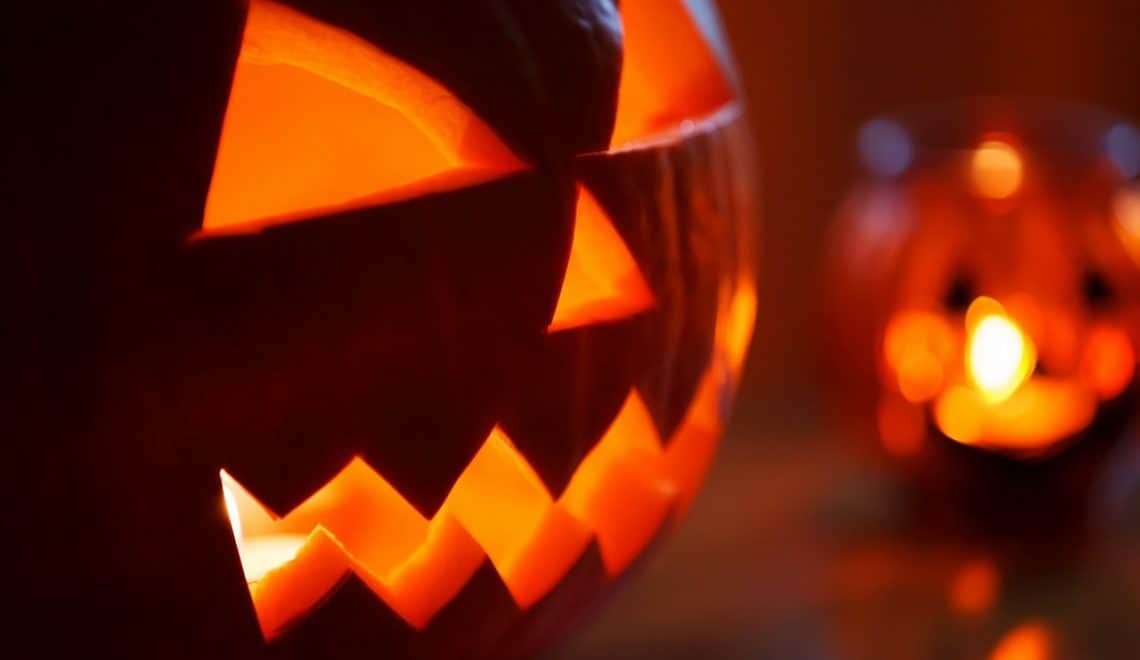 Halloween in Devon: frightful events for families 2019
If you're looking for the spookiest events happening this Halloween in Devon then take a look at our guide to frightening goings on over October half term 2019.
You can also check out our guide to what to do in Devon this autumn for more inspiration from September to November.
And if you can face it, why not plan a bit further ahead to Christmas? I've got a round up of what's on in Devon this Christmas to get you in the festive mood.
October half term in Devon 2019
Whether you enjoy the thrill of being frightened or prefer something a little less freaky and a lot more fun there's plenty happening around Devon during the October school holidays to entertain the whole family. We've listed them in the South, East, North and West to help you find what's happening near you this Halloween in Devon:
Halloween in South Devon
Woodlands Family Adventure Park
There's a jam-packed programme of Halloween fun at Woodlands during October half term. Meet the resident monster, Marty, in his eerie manor (additional charge); board the ghost farm ride; carve pumpkins; and take part in spooky activities with Ezmerelda, the wicked witch of Woodlands. Dress up if you dare!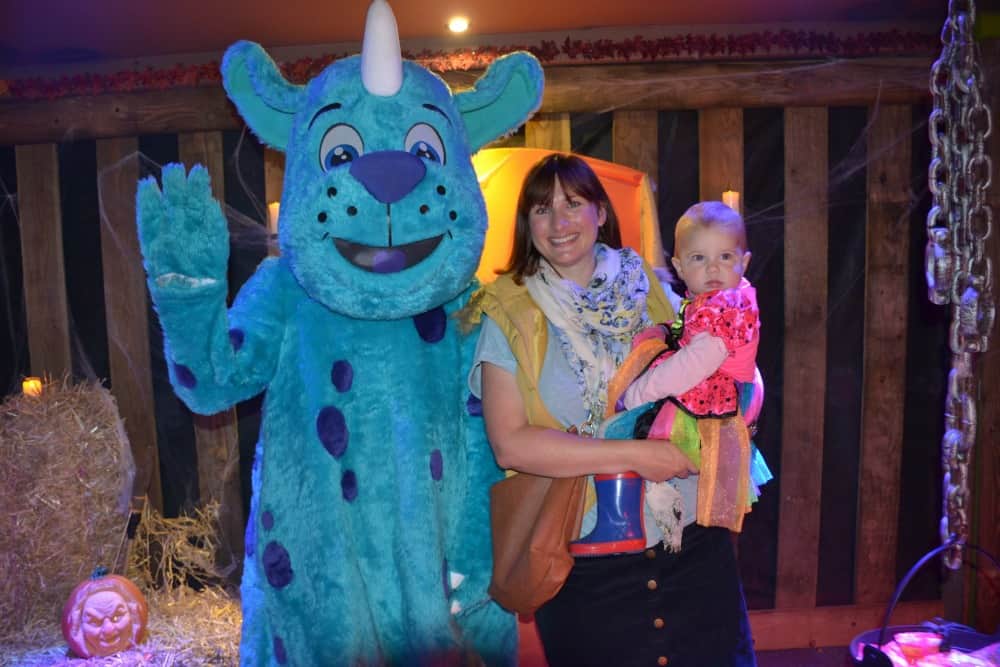 Find out more about Halloween at Woodlands on its website. Book your entrance tickets online in advance for a discount.
Torquay Dinosaur World
It's not just the dinosaurs that will be giving you a fright at Dinosaur World this October half term. Take part in the Halloween trail to win a prize and visit after 3.30pm for a torch lit tour of the exhibition including a dinosaur ghost story.
Find out more about Halloween at Torquay Dinosaur World on its website.
Paignton Zoo
Take part in a wild potion trail to find the ingredients for a witches brew, listen to talks about the zoo's scariest residents and watch them being fed some Halloween treats.
Find out more about Halloween at Paignton Zoo on its website.
Living Coasts
Discover maritime monsters at Living Coasts with a special Halloween trail. You can also see the animals getting some spooky snacks during enclosure talks.
Find out more about Halloween at Living Coasts on its website.
Powderham Castle
Prepare yourself for a pumpkin carving and spooky tours at Powderham Castle this October half term.
Find out more about Halloween at Powderham Castle on its website. Read our review of Powderham Castle.
National Marine Aquarium
If ghosts and ghouls don't keep you awake at night maybe the shadow of a shark passing overhead might? Join in Sleeping with Sharks at the National Marine Aquarium in Plymouth on 25 October 2019. Children must be accompanied by an adult.
Find out more about Halloween at The National Marine Aquarium on its website. Book in advance. Read out review of The National Marine Aquarium in Plymouth.
Dartmoor Zoo
Things are going to take a turn for the worst after dark at Dartmoor Zoo on 26 October 2019. From 4pm take part in a torch lit trick or treat trail, a fancy dress competition and have creepy close encounters with some of the zoo's residents.
Find out more about Halloween at Dartmoor Zoo on its website. Book tickets in advance.
Canonteign Falls
On Friday 25 October 2019 there will be plenty of spooky goings on at Canonteign Falls. Arrive from 1pm and 6.30pm for Halloween-themed craft activities in the cafe followed at 3pm by a spooktacular spells and potions interactive theatre event with the fantastic witches of The Pocket Watch Theatre Company. Then, if you dare, you can go on a night walk  around the lake and lower waterfall!
This event is suitable for children aged four and up. Adult supervision is required. Bring torches, warm clothes and suitable footwear. The Snack Shack will be open for hot soup and refreshments.
Find out more about the spooky activities at Canonteign Falls on its website. £4 supplementary charge per child aged five or over for Halloween activities including a hot chocolate.
. 
Bygones
A few new seasonal residents are coming to Bygones in Torquay this Halloween. There will also be a hunt and a riddle to complete to claim a treat.
Babbacombe Model Village
There will be tiny scenes horror all over the model village this Halloween, plus a smoky maze, and haunted house show in the 4D cinema.
Find out more about Halloween at Babbacombe Model Village on its website.  Normal admission prices apply.
Halloween in East Devon
Crealy Adventure Park & Resort
There's a host of fearsome activities on at Crealy during October half term with some a little scarier than others. For a bit of light hearted Halloween fun you can visit the tree house trolls in their enchanted woodland, carve your own pumpkin and check out new attractions for this autumn including the Halloween Glow Show, Jester's 3D Fun Maze and the Witches of the Wilderness.
For the truly fearsome (recommend for over eight-year-olds), there's the Creaky Hotel with plenty of frightening discoveries to be made.
Find out more about Halloween at Crealy Adventure Park on its website.
The Bear Trail
Can you help defeat the zombie hoard at The Bear Trail or will you end up infected by the undead? The Bear Trail will be open all over half term and a special halloween event takes place on Sunday 27 October, 2019. This special zombie assault course promises to be fun for all ages – just expect to get muddy! We know from experience.
Find out more about Halloween at The Bear Trail on its website.
Pecorama
Ride the Beer Frights Railway and join in extra Halloween entertainment this October half term. There will also be a Fearsome Food Menu from the Garden Room Restaurant.
Find out more about Halloween at Pecorama on its website. 
Seaton Tramway
Ride the Tram of Terror at Seaton Tramway if you dare! Gruesome drivers are taking over the route from Seaton to Colyton during a special service this October and will be entertaining passengers with Halloween games and activities, Baddie Bags for each child and revolting refreshments. Dress up if you dare!
Find out more about Halloween on Seaton Tramway on its website. 26 October 2019 only. Booking essential. Read our review of Seaton Tramway.
Halloween in North Devon
The Big Sheep
Family-friendly frights will be happening throughout October half term at The Big Sheep. Visit the haunted house, take a haunted hay ride, carve a pumpkin and learn to fly a broomstick.
Find out more about Halloween at The Big Sheep on its website.
The Milky Way
Dress in your finest Halloween costumes and enrol in the School for Witches and Wizards at The Milky Way Adventure Park at October half term. Learn to cast spells, ride broomsticks and make magic potions. There will be a fancy dress competition and a Halloween themed show.
Find out more about Halloween at The Milky Way on its website. Book online to save money on entry. Read our review of The Milky Way.
RHS Rosemoor
Take part in Halloween themed workshops in which children can learn the Monster Mash and carve a pumpkin with Jack O'Lantern and Fizz the Witch characters in charge. Fancy dress is welcome. There's an additional charge for this workshop.
Find out more about Halloween at RHS Rosemoor on its website. Workshop booking essential.
So, what creepy events take your fancy this Halloween? Whatever you get up to have a frightful half term!
What about other school holidays in Devon?
If you're planning ahead to next year here are some more handy posts on things to do in Devon during other school holidays:
You'll also find plenty of Devon inspiration in my big Devon family holiday guide.
Pin for later