Free Devon kids travel activity book
Exciting news! I've teamed up with the children's travel activity book peeps Deliberate Travel Kids to launch a FREE workbook all about our favourite place in the world, Devon!
Read on to find out how to get your copy!
What is Deliberate Travel Kids?
Deliberate Travel Kids was set up by Dutch-English couple Joram and Laura who help kids develop a curiosity about the world through travel activity books based on amazing destinations.
They have created 17 so far about countries like Lapland, Italy, South Africa and Peru.
Each workbook contains six to eight activities covering history, geography, books and culture for different countries. Completing them is fun, interactive and engaging, meaning that children learn without even realising it.
Now, with UK travel set to be more popular than ever, they have created their first activity book about a local travel hotspot – Devon! Of course, I was only too happy to help.
Why Devon?
If you have been following Tin Box Traveller for a while, and particularly in the past year, you will know we live in Devon, England.
In fact, I have another blog dedicated to our home county and all the brilliant things to do in Devon. We couldn't think of a better place to call home.
But of course, it's also a hugely popular UK holiday destination.
And in 2021, with international travel looking like it's going to be more complicated than the Krypton Factor, many people will be packing their bags for a family holiday in Devon.
If you're one of them, you may be looking forward to days at the beach, moorland walks and a generous dollop of cream and jam on a freshly baked scone.
But there's a lot more to Devon than these bucket list activities.
That's why I've helped Deliberate Travel Kids to create the Devon kids travel activity book to take you and your kids on a proper tour.
What's in the Devon workbook?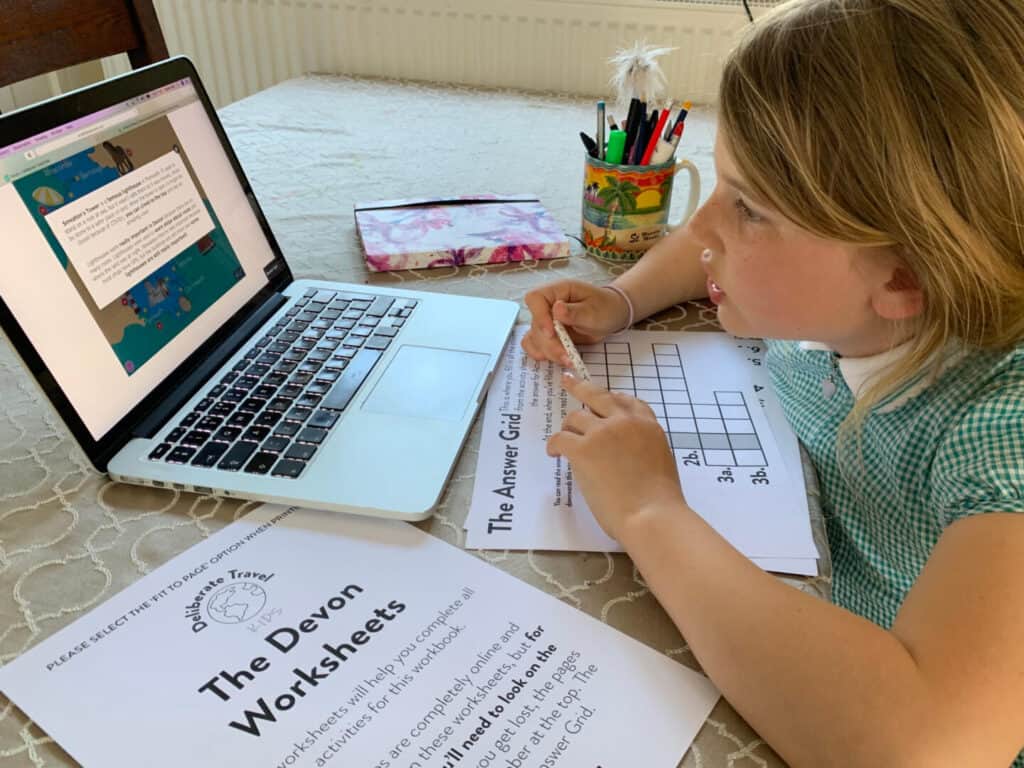 The Deliberate Travel Kids Devon workbook contains activities and puzzles to help curious kids dig a little deeper than they might at the beach – although Australia is always in their sights!
It includes puzzles, quizzes and fun facts on topics like:
Famous people from Devon
What's the difference between Devon and Cornwall cream teas?
Travelling around Devon, including Exmoor and Dartmoor
Where to find otters in Devon.
Eight-year-old Tot has been our top tester and loved clicking on the interactive maps and quiz, and reading lots of facts. One of her topics at school at the moment has been finding out more about where we live, so this is a massive tick in the box for our homework this term.
The workbook is designed for six to 12-year-olds and can be accessed online, with printable worksheets on which to complete the tasks.
It also comes with a Devon-themed colouring sheet for younger siblings. Six-year-old Baby loved doodling over outlines of West County landmarks and icons.
And the very best part is you can get a copy of this online and printable workbook for FREE!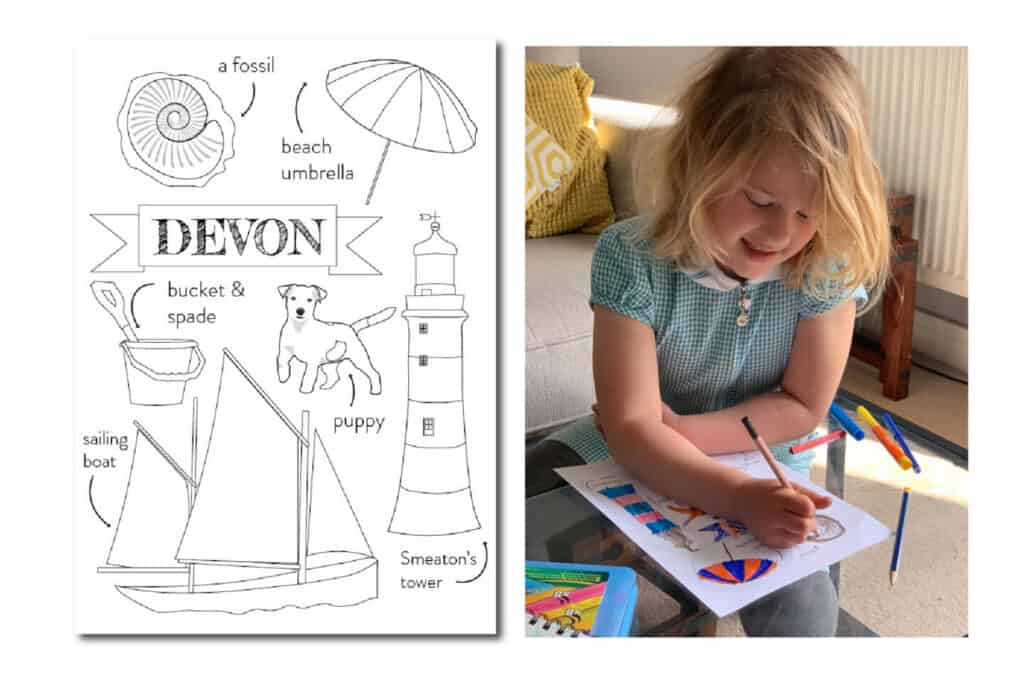 How to get the Deliberate Travel Kids Devon workbook
Feed your kids' curiosity about travel and places in the UK by signing up to receive the Devon workbook now. Don't forget, it's free!
While you're looking, take a peek at the other Deliberate Travel Kids workbooks including destinations like Lapland, Italy, South Africa and Peru. There's so much inspiration for future travels.
You can get monthly or annual subscriptions to have new workbooks send straight to your inbox.
Who's itching for a trip to Devon and beyond right now? Check out Devon with Kids for days out and travel inspiration. Or take a look at these Devon holiday accommodation reviews:
Want to share the news about this new Devon kids travel activity book? Why not save this post in Pinterest!