Devon beach walk #1: Strete Gate
I love living by the sea. There's something reassuring about hearing the call of sea birds and tasting salt on the breeze. It's also an important point of reference for me. If I have the coastline behind me I can mentally map out the land around.
When we lived in Hampshire we often visited our local beaches and those in neighbouring West Sussex and Dorset. Most were shingle, with green waters churned by the busy shipping lanes of the Solent. On the horizon there was the Isle of Wight where we could pick out the features of Yarmouth, Cowes, Osbourne House and Ryde depending on our observation point from the mainland.
We walked on our local beaches in rain and shine, at mid-summer and on New Years Day. They were our place to go when we needed some fresh air at the end of a busy day or a destination for meeting up with friends. Going to the beach is and always will be an important family ritual.
Moving to Devon has given us the opportunity to walk on a whole host of different beaches with their own characteristics. This is a truly exciting prospect and something I thought would be fun to share here on the blog.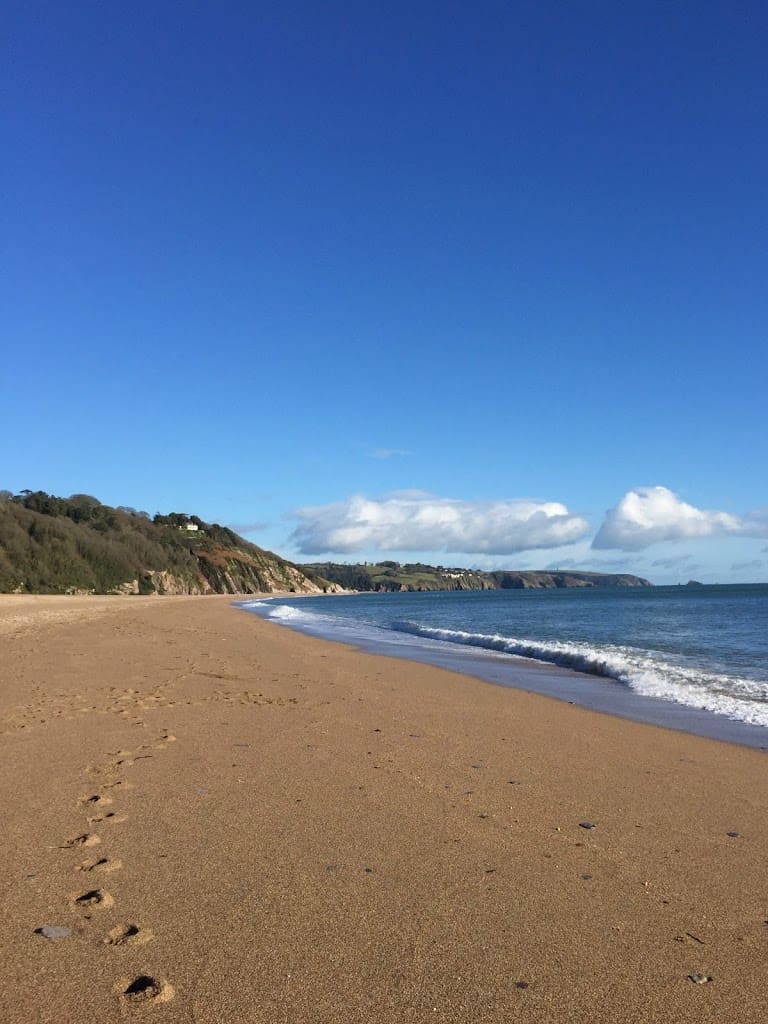 About the Street Gate beach
Strete Gate is part of a long coastal bar that runs across Torcross in South Devon. The beach is made of fine shingle, which sinks away under your feet making walking slow and steady.
There's a promenade along some of the coastal bar but I wouldn't recommend using a pushchair if you want to see the beach properly. Wear those babies and make sure toddlers and other kids have sturdy shoes on.
The carpark at has a pay and display machine but this was covered for the winter during our visit. There's a small toilet block, but no baby changing facilities.
The good news for families with four-legged members is that dogs are welcome at Strete Gate all year round. There's a dog bin near the carpark, so there's no excuse to not pick up those poops.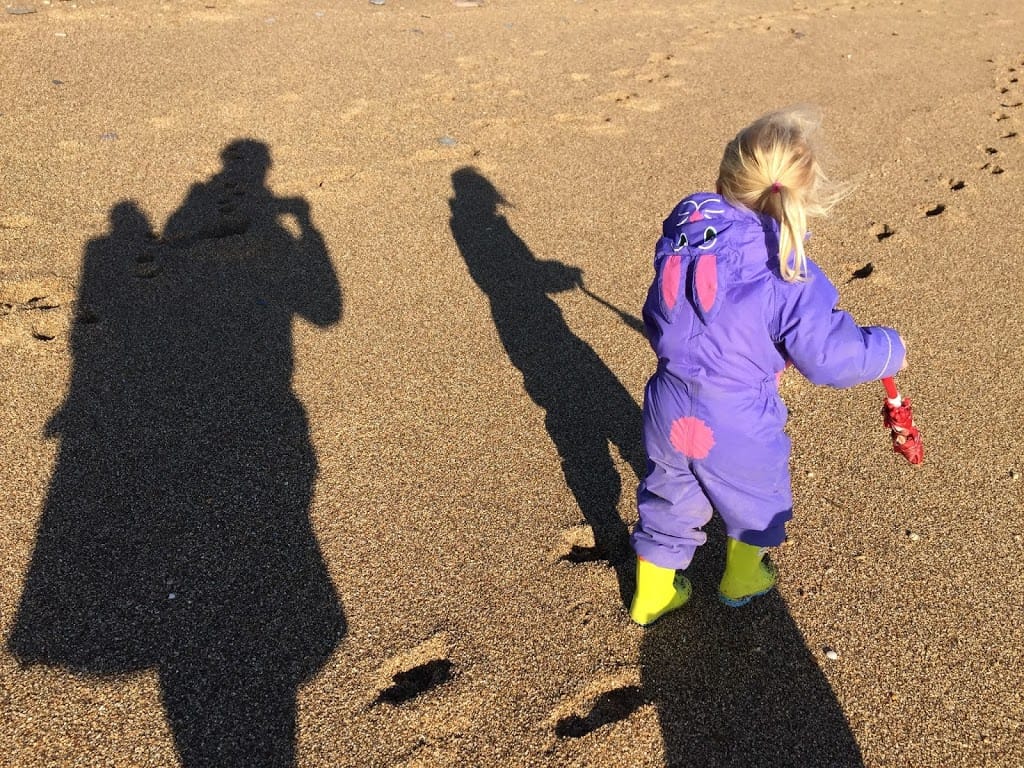 Our walk
After days of rain, wind and more rain, we were very excited when we had our first bright sunny day of January 2016. It was perfect weather to get outdoors and explore a Devon beach.
Strete Gate is a 15 minute drive from where we live in Dartmouth. It's not a totally new beach to us as we visited last summer holiday when we were searching for a dog friendly shoreline. A lot of the more popular beaches are out of bounds for dogs in high season.
Sadly the weather was terrible and we didn't hang around much longer than it took for me to feed and change Tin Box Baby while Mr Tin Box threw the ball a few times for the dog.
What a difference six months makes! We found the beach surprisingly sheltered despite it being on a long, straight stretch of coastline. It even felt warm. Yes, in January.
Tin Box Tot was so excited to be able to run around on the shingle, as was Tin Box Dog. They have missed having the opportunity to do this in the past month.
We drew lines in the sand with TBT's umbrella (that she insisted on bringing with her despite the sunshine), we threw a few stones at the water's edge and removed a lot more from TBT's wellies.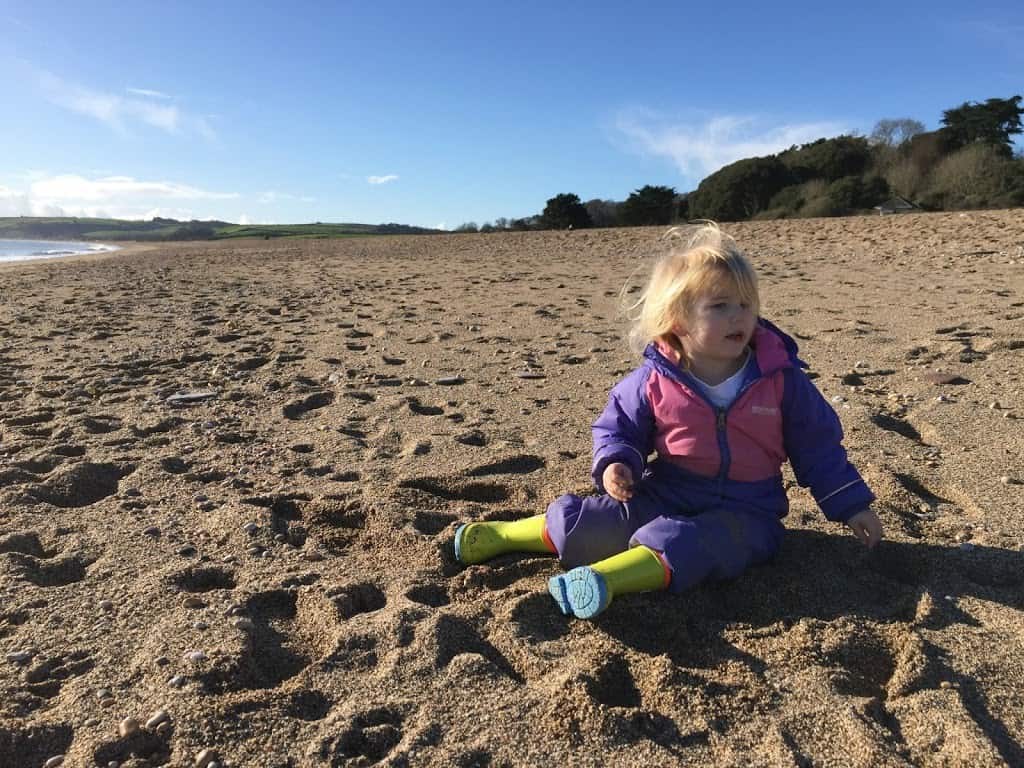 It was my first outing with Tin Box Baby strapped to my back in our Baby Weavers back pack. She has now outgrown the Moby Wrap we have had since she was born and seemed to enjoy her new crow's next position.
We didn't wander far along the beach as we had to get home again for lunch, so there's still plenty for us to explore another day.
Strete Gate – great for
Picnics
Dog walking
Swimming – no life guards
Water sports – bring your own equipment.
It's also worth mentioning that the north end of Strete Gate is a naturist beach. We didn't see anyone brave enough to bare all during our visit! Not surprising really in January.
Have you been the Strete Gate? Can you recommend any other Devon beaches for us to visit in 2016?
Pin for later