16 magical Christmas events in Devon 2017
UPDATE: For events happening at Christmas in Devon in 2019 see my updated post.
2017 is our second year living in the West Country and after experiencing some fabulous Christmas-themed days out in 2016 we can't wait to get stuck into this year's festive delights. Here's a few of the most magical Christmas events in Devon – some of which we tried and tested last year and others that we hope to enjoy soon. Keep any eye out for more events being added as details are released!
If you're looking for recommendations a little further afield then check out my top family Christmas events in the UK post.
Christmas in Devon 2017
UPDATE: For events happening at Christmas in Devon in 2018 see my updated post.
Candlelit Dartmouth, Dartmouth – 24 to 25 November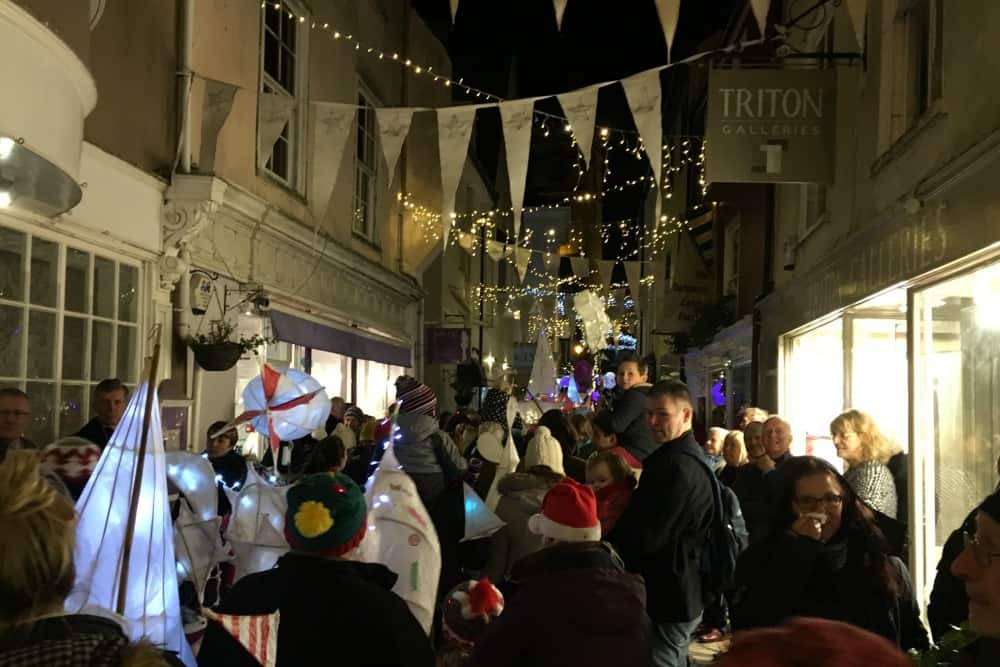 This was a big hit with us in 2016 and we can't wait to start making our lanterns for this year. The town will come alight during this 48 hour event when the Christmas lights are switched on and a candlelit procession of lanterns weaves through the streets. Don't miss Santa arriving by boat on the Friday or the children's entertainment on the Saturday before the procession.
UPDATE: here's our video of Candlelit Dartmouth 2017.
Candlelit Dartmouth, Dartmouth. Free. Some events bookable in advance.
Christmas at Pennywell, Pennywell Farm – 25 November to 24 December
The farm will be hosting traditional nativity plays with an authentic manger in a barn full of animals, including the super cute miniature pigs! Visiting children can dress up as one of the characters and take part under the direction of the farm staff. After the performance each child can meet Santa in his grotto and receive a gift.
Pennywell Farm, Buckfastleigh. Normal admission applies. Booking is online is essential.  
Acrobatics and Christmas fun at Princesshey, Exeter – 30 November and 7 December
Two magnificent live shows are taking place at Princesshay in Exeter in the run up to Christmas. Arco, a team of acrobats, will perform from a 12m high inflated arch, while Spark, high impact drummers with kaleidoscopic lighting, will be making magical music on two separate evenings. There will also be a charity-run Christmas Tree Festival on the historic Roman Walk, lights and a Christmas present competition throughout the Christmas shopping season.
Princesshay festive line-up, Princesshay Square, Exeter.
Enchanted house, Saltram House – 30 November to 30 December
We loved visiting Saltram House at Christmas last year – the decorations were truly magical. We enjoyed it so much we went twice! This year Saltram House and gardens will be enchanted for Christmas. The house will be decorated with fairy tale themes and the gardens will come aglow with a rainbow of coloured lights in the evenings. There is also a chance to meet Father Christmas. Bookings open for Santa in October.
Saltram House, Plymton. Normal admission applies.
Breakfast or tea with Santa, Wyevale Garden Centres – selected dates in November and December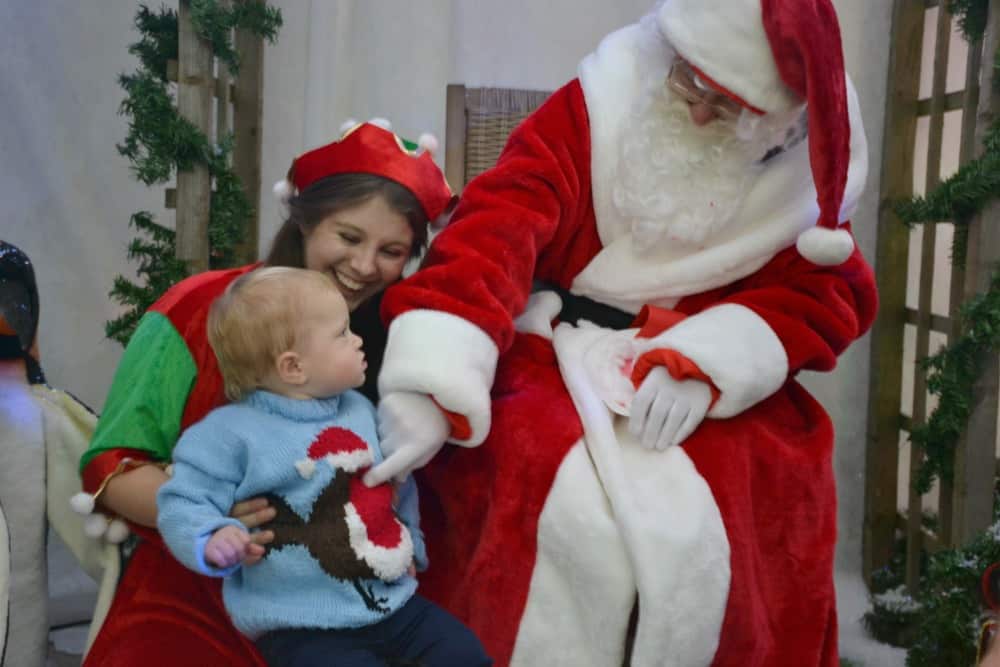 We loved our afternoon tea with Santa last year! Sit down for a lovely meal with Father Christmas at one of four Wyevale Garden Centres in the county – Ashford Barnstable, Endsleigh, Jack's Patch or Sidmouth. Children and adults alike will have the chance to meet with Santa, as well as the chance to decorate their own Christmas biscuits, receive a special present from Santa and participate in a range of fun festive activities.
Wyevale Garden Centres, Devon. Book online.
The Polar Express Tram Ride, Seaton Tramway – 1 to 3, 8 to 10, and 15 to 24 December
Join the Polar Express tram for a journey to the 'North Pole' including hot chocolate, cookies and a meeting with Santa and his elves. There's even a gift for the children. Don't forget your pyjamas!
Seaton Tramway, Seaton. Special prices apply. Book online.
Coleton Aglow, Coleton Fishacre – weekends from 1 December until 31 December
On selected dates throughout December the gardens and house of this coastal National Trust property will be illuminated with festive lighting. The house will also be decked for a 1920s festive party. Check the National Trust websites for more details on the dates Coleton will be Aglow and how to book one of the two time slots. Take a look at our review of Coleton Aglow in 2016.
Coleton Fishacre, Kingswear. Normal admission applies. Book online.
A Victorian Christmas, Bygones – 1 to 23 and 27 to 31 December
What was Christmas like in 1897? Bygones in Torquay is laying on the full historical experience throughout December complete with Victorian decorations, a 12ft tree and a festival hunt. You can also book to have breakfast or lunch with Santa in his grotto on selected dates. Booking to see Santa and receive a gift is essential.
Bygones, Torquay. Special prices apply for breakfast and lunch with Santa. Book online.
Christmas at Woodlands, Woodlands Family Theme Park – selected dates between 2 and 22 December
Woodlands will be throwing open the doors of a brand new Santa's Grotto this year. Guests can explore nine interactive festive rooms before meeting Santa. There will be a free gift and photo opportunities with the big man and his elves, as well mini cookies for the kids and a drink for the adults. You can even take home a treat for Rudolph and his friends for Christmas Eve.
Woodlands Family Theme Park, Dartmouth. Tickets to Santa's Grotto include park entry. Book online.
The Victorian Christmas Experience, The World of Country Life – 2 to 23 December
Join Santa's Deer Train and meet his slay-pulling team before enjoying carol singing and sausage rolls in the park's Victorian street museum. Visitors can meet Santa in his workshop to receive a present and do crafts with the elves. Please note the rest of the attraction is closed.
The World of Country Life, Exmouth. Purchase special tickets online. Discount for members.
Woolly's Wonderland, The BIG Sheep – 2 to 3, 9 to 10, and 16 to 24 December
Enter Woolly's Wonderland for plenty of winter fun for the whole family. There will be ice skating, a snowboard simulator and a chance to meet Santa and see his lightshow. All these festive thrills will be happening alongside the usual winter-time BIG Sheep fun.
The BIG Sheep, Bideford. Admission prices apply. Book online.
Santa's Magical Christmas, Crealy Great Adventure Park – 2, 3, 9, 10 and 16 to 23 December
Santa will be putting in a special appearance at the family theme park this December. Younger visitors will have a chance to meet the big man and all who visit the grotto will receive a gift to take home. There's also a special Santa Show happening five times throughout the day. Show tickets and presents are included in the admission price but there's a limited number of spaces at each show. Tickets will be given out on a first come first served basis each day.
Crealy Great Adventure Park, Exeter. Normal admission prices apply. Book online to save 20 percent.
Santa Express, Dartmouth Steam Railway – 3, 9, 10, 16, 17 and 21 to 24 December
We've already booked our tickets for the Santa Express this year and can't wait for this fabulous Christmas train ride. As well as a trip on this charming steam railway, guests will be treated to a mini-pantomime and an audience with Santa. There will be suitably adult refreshments for parents and grandparents as well as lots of games to entertain children during the round trip from Paignton to Kingswear.
Dartmouth Stream Railway, Paignton. Special prices apply. Book online.
Santa in the Caves, Kents Cavern – 3 to 24 December
Visitors to Britain's oldest ancient monument will be able to meet Santa and friends in these wonderful caves. There's an hour long show with gifts for children as well as mulled wine and mince pies for the adults. On 15 December you can also join in with Carols in the Cave in support of local charity, Anode
Kents Cavern, Torquay. Special prices apply. Book online.
Santa by Steam, South Devon Railway – 9, 10 and 16 to 24 December
All aboard the train for the North Pole! Young passengers will be invited to meet Santa and his elves in their special carriage on the train from Buckfastleigh to Totnes, aka the North Pole. There will also be mice pies and mulled wine for the adults during the ride.
South Devon Railway, Buckfastleigh. Book online.
Christmas Special, Morwellham Quay – 9 and 10 December then 16 to 24 December
The Mine Train will be taking visitors to see Santa in his grotto where they'll receive a present. Families can enjoy a drink and mince pie, while making their own Christmas decoration to take home. Places for the train are limited and must be booked in advance.
Morwellham Quay, Tavistock. Special prices apply. 
Christmas at The Milky Way Adventure Park – 9, 10, and 16 to 23 December
Santa and his elves will be making appearances at the park's grotto and sharing early presents with young guests. Children can also decorate gingerbread, make personalised baubles and Christmas cards.
The Milky Way, Clovelly. Normal admission prices apply. There's an additional charge for some activities.
Dartington Shops Christmas Fair – 16 to 17 December
The Shops at Dartington will be bursting with Christmas cheer during their annual Christmas Fair. Expect food and wine tastings, locally grown Christmas trees and live music. This award-winning shopping village are owned by the Dartington Hall Trust, an independent charitable organisation, trading ethically and sustainably as a social enterprise. Highlights from the weekend will include a kid's treasure hunt, pottery throwing, and two children's shows each day.
Shops at Darlington, Dartington Hall Estate. Free admission.
How will you be celebrating Christmas in Devon? Maybe we'll see you at one of these yule-tide events.
If you'd like to find events elsewhere in the UK take a look at these family-friendly Christmas days out.
UPDATE: For events happening at Christmas in Devon in 2018 see my updated post.
Pin it for later
SaveSave