Planning a family holiday camping at Lake Garda in Italy
This summer we are going camping in Italy with Al Fresco Holidays who have invited us to stay at Eden – a campsite on Lake Garda. It's going to be a multi-generational holiday with my parents and my first holiday abroad with them in donkey's years. I can't wait! As with all family holidays I'm now in full on planning mode as we approach our departure date in August. I thought I'd share some of what we've already got sorted before we go camping. Lake Garda is also an amazing holiday destination, so I've shared a selection of things to do in Lake Garda and beyond.
Camping: Lake Garda – a family holiday plan
Flights to Lake Garda
We will be flying from Southampton to Verona with Flybe but there are also direct flights from Manchester, Cardiff, Birmingham, Edinburgh and London airports on Saturdays in peak holiday season. On Wednesdays you can add Newcastle, Leeds, and Nottingham to this list.
Our flights have all been arranged by Al Fresco Holidays as part of our package holiday – it makes arranging a camping holiday abroad so much easier.
Car hire Verona Airport
Another thing that Al Fresco Holidays have sorted for us is car hire at Verona Airport. You really need a car to get to Eden campsite on Lake Garda as it's 61km away and the closest train station is 20km. There are several car hire companies based at Verona Airport. You may want to consider buying car hire excess insurance before you travel.
Where to stay in Lake Garda
I've already mentioned that we are staying at Eden which is one of six campsites where Al Fresco Holidays have mobile homes on Lake Garda. Our campsite is close to the port town of Portese which has a pebble beach, a few bars and restaurants serving up fish dishes and gelato. You can also catch a ferry from here to other parts of the lake.
The great thing about camping with Al Fresco Holidays is you're never roughing it and you know there are going to be some excellent family facilities on the campsite. We stayed at one of their campsites in the Vendee region of France last year, and loved the modern accommodation and the family-friendly activities.
This time we will be staying in a Vivaldi three-bedroom mobile home which comes with a double bedroom and two twin rooms to sleep up to six people. As we're flying to Italy we have had linen and beach towels added to our mobile home booking, as well as air conditioning – we are expecting it to be hot!
Speaking of the gorgeous weather at Lake Garda in the summer, another way I know my girls will enjoy cooling down is with a dip. At Eden campsite on Lake Garda there are two pools with views of the lake and mountains, plus a separate water slide area and toddler splash park.
I can't wait to recreate moments like this from our last Al Fresco Holidays break in France.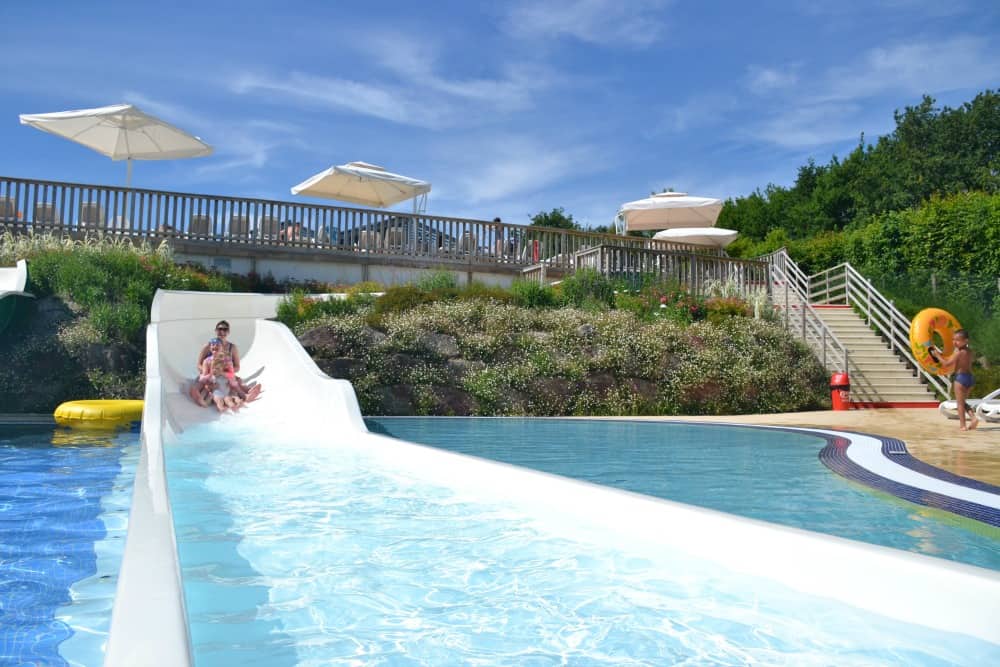 What to pack for a Lake Garda camping holiday
As we're staying with Al Fresco Holidays who provide everything we need for a self-catering holiday in Italy, we're free to stuff our suitcases with personal items and a few extras. However, if you are driving into Europe and need to bring proper camping supplies for a tent or caravan holiday then take a look at my self-catering holiday packing list.
For our holiday on Lake Garda, swimming costumes are a must for the campsite pools and hopefully some excursions to lakeside beaches. I'll also be picking up some cheap inflatables for the kids to play with in the pool.
Something I learned from our last self-catering holiday in Europe was to pack an easy evening meal and some breakfast cereal to get us through the first 12 hours. We're going to be landing at Verona at 6.45pm so really don't want to have to visit a supermarket on the way to the campsite. A proper shop can wait until the Sunday or Monday depending on what's open. As well as lots of snacks for the kids during our journey, I'm going to pack a few packets of dried pasta, a pouch of tuna and some sweetcorn should we not be able to get a takeaway on site when we arrive.
Things to do in Lake Garda
Here are some the things to do on Lake Garda that I've found while researching our holiday. I know we'll not be able to do them all as we plan to have lots of relaxing days by the pool and lake, but there's plenty of ideas for another time:
The Tuesday market at Desenzano del Garda
Sample some of the Lombardy region's fresh produce including the cheeses for which it is famous: Marscarpone, gorgonzola, Taleggio and Grana Padano – yum! The market takes place on the main street by the lake from 8am until 1pm every Tuesday. As well as cheese you'll find clothes, toys and flowers. Other Lake Garda markets take place from Monday to Saturday.
Take a ferry trip around Lake Garda
Lake Garda is huge, measuring 50km in length and 15km wide in places. It's not the type of lake you can gently sail around in a day. Indeed many of the ferry services are hydrofoils geared to getting people from one lake side town to another at speed. However I wouldn't mind hopping on at Portese or the resort town of Salò close to our campsite and crossing over the lake to explore the Venetian streets of Garda – the small town after which the lake was named.
Lake Garda's cablecar
Hopping on the ferry to Garda is also one of the best routes from the Salò side of the lake to reach the Monte Baldo cablecar into the lake side mountains at Malcesine. The rotating gondola rises 1,800m above the lake for panoramic views of the mountainous northern end to the relatively smoother southern end.
Gardaland
This incredible looking family theme park is one of Italy's top attractions and is under an hour's drive from Eden campsite on Lake Garda. There are roller coasters, water rides, a 4D Cinema experience and, new for 2018, Italy's Peppa Pig Land. It also has a SEA LIFE aquarium with more than 100 different species of marine life and 40 tanks. Gardaland is part of the Merlin Group, which also runs Alton Towers and Chessington World of Adventures, so you know the kind of full on family day out you can expect here.
CanevaWorld Resort
CanevaWorld Resort is two theme parks in one: the first is a movie-themed attraction with action shows, rides and experiences based on popular films; then there's the Caneva Aquapark with 12 slides, a lazy river and plenty of pools to relax beside. You can buy tickets for each park separately or a combined ticket to visit them both on the same day. Buy your tickets online for the best rate.
Tower of San Martino and military museum
This tower was built to commemorate a battle between the Italians and Austrians in 1859 during which tens of thousands of people died in one day. There is also a military museum telling the story of the battle. At night the colours of the Italian tricolor are beamed from the top of the tower. It sounds like a sobering memorial but perfect for history buffs.
Things to do near Lake Garda
Day trip to Venice from Lake Garda
We've decided to make a day trip to Venice which is two hours from our closest train station, Desenzano del Garda. The girls and I have never been to Venice so I'm very excited to see this iconic Italian destination for myself. We'll have about eight hours in the city so Tin Box Grandma and Grandma are going to show is some of their favourite sights from pervious visits, plus we have been offered a one-hour family-friendly Venice tour with Macaco Tour. They are going to help us discover some of the hidden gems of the Santa Croce area of the city using sounds and maps. Keep an eye out for the review after our trip.
Day trip to Verona from Lake Garda
Somewhere else that we are keen to explore is Verona – the city where Shakespeare's Romeo and Juliet was set. I've been told by a few people not to be too disappointed by the graffiti that you find daubed all over sights linked to the story, but I know there is a lot more to see in this UNESCO World Heritage Site city.
The first century Roman amphitheatre used to be the setting for gladiator contests but is now a music and theatre venue hosting operatic classics like Carman this summer. You can also tour the venue during the day. Verona Arena is located in the old town and is open seven days a week during July, August and September.
The local tourist information team also recommend family itineraries for wandering the city's streets and spotting fun features kids will love.
Lake Garda, Italy: weather during the summer
You'd be unlucky to visit Lake Garda in the summer months and find the weather to be poor. Temperatures in July and August range between 22°C and 29°C. There's an average 12 hours of sunshine a day and few showers. We'll be packing sun hats and plenty of sun cream for our holiday.
A holiday to Lake Garda
Keep an eye on the blog and my social media in August to see what we get up to during our holiday camping on Lake Garda. Have you been on a holiday to Lake Garda? Do you have any tips for camping holidays there or things to do on Lake Garda? I'd love to hear them.
Disclosure: we have been invited to Lake Garda by Al Fresco Holidays and are genuinely looking forward to our stay. That's why we've put together this post – not because we've been asked to. Images of Italy courtesy of Pixabay and Eden campsite images courtesy of Al Fresco Holidays.
Pin for later