5 free things to do in Windsor with kids (and where to splash the cash if you're feeling flush)
If like me you're a fan of the British Royal Family, a visit to Windsor in the UK is a must. This Berkshire town centred around the Queen's favourite residence, Windsor Castle, is peppered with reminders of its most famous resident and monarchs of the past.
You might think that sightseeing in a place frequented by kings and queens would be quite costly. In fact, we spent a day of our UK summer road trip here for little more than the cost of parking. Here's how to visit Windsor with kids without blowing the budget:
Windsor with kids: free things to do
Changing of the Guard
The ceremonial Changing of the Guard at Windsor Castle happens every Monday, Wednesday, Friday and Saturday (weather permitting). You can buy tickets to go into the castle and see this spectacle but there's also a chance to see the guards' procession on the streets outside just before and after. Arrive outside the castle by no later than 10.30am to get a good view on either the Guildhall steps on High Street or between the statue of Queen Victoria and the Castle entrance on Castle Hill. Here's some handy information about the route.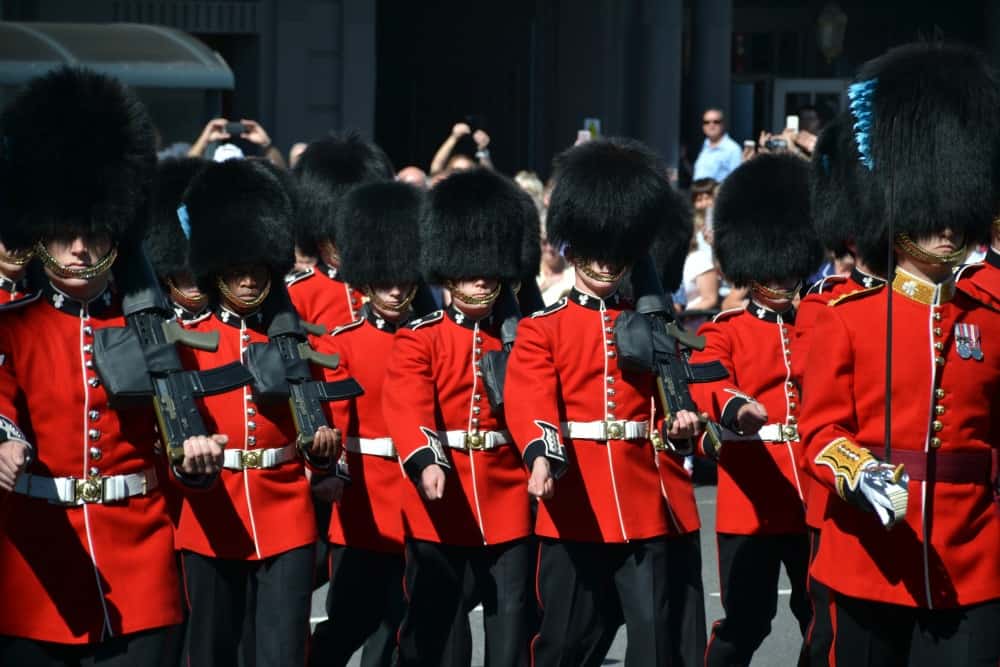 Picnic in Alexandra Gardens
This beautiful park has views of the castle and some wonderful features. Alexandra Gardens boasts a sun dial where you act as the dial, large grassy areas bordered with curved seats and footpaths perfect for scooters. You'll also find reasonably priced parking here, either on the road by the river or in the large car park at the far end.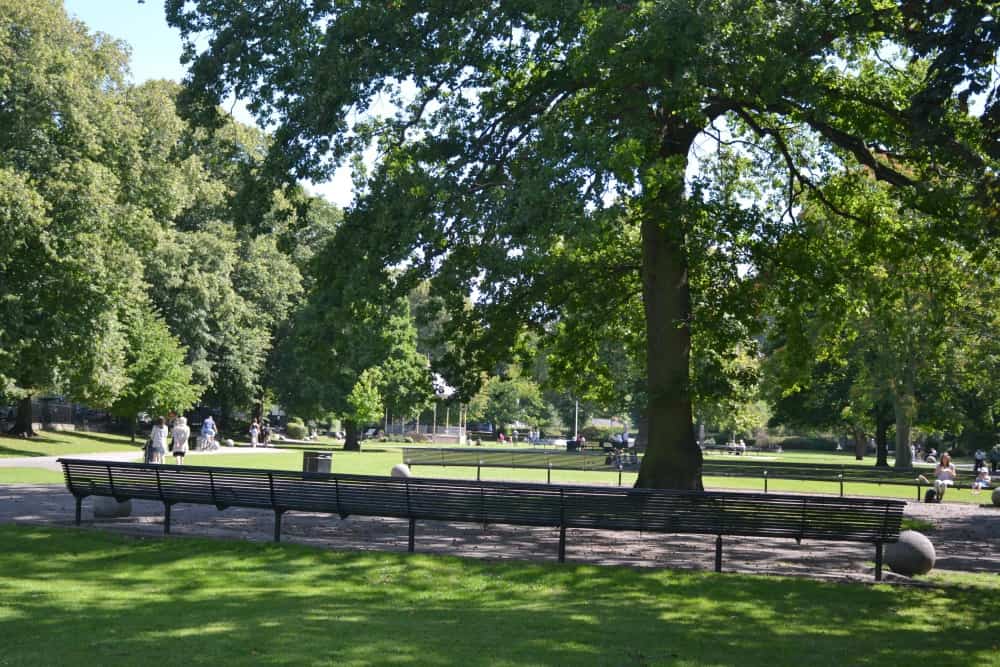 Walk along the River Thames
The River Thames runs between Windsor town and Eton. Our girls had lots of questions about the house boats, who lived in them and their rustic decorations. The replica of the World War II Hawker Hurricane opposite Alexandra Gardens is also an impressive sight. While walking along the tow path you're bound to be stalked by a gaggle of swans and other wildfowl eager to see if you have any picnic leftovers.
Diamond Jubilee Fountain
This is a real child-pleaser and a perfect spot to cool down on a warm day. The Diamond Jubilee Fountain was opened in 2012 to commemorate Queen Elizabeth II's 60th year on the throne. Its centre-piece is a large stone bowl from which jets form the perfect shape of a crown. Please note this is not a splash park. There is an interactive water feature at Bachelor's Acre, off Victoria Street.
The Royal Windsor Maze
This one-way, flat brick maze with a Chess-theme will appeal to all ages as there's several ways to play with it. Young children can simply follow the brick path, while older kids and adults can try to solve the riddle by reaching the centre having visited each chess piece on the curvy paths once. Find the Maze in The Goswells park on Goswells Road.
Your enjoyment of this list of free things to do in Windsor with kids will be dependant on the weather. We visited on a warm, sunny day. If you're not as lucky, read on to check out ways to splash the cash and liven up a traditionally British damp day.
Other great days out in Windsor with kids
Want to treat your mini kings and queens? Here's some ideas for more great family days out in and around Windsor:
You can't go wrong with a National Trust day out and Windsor's closest is the enormous estate of Cliveden. Cathy at Mummytravels is a big fan of the amazing architecture at Cliveden National Trust, which is just 15 minutes outside Windsor. If you're a National Trust member you need only worry about saving up for the cake!
Windsor Castle is on my bucket list but I think we'll leave it a few years until the girls are old enough to appreciate the history. Clare at Suitcases and Sandcastles has written brilliant list of things you must do when you visit. A family ticket for two adults and up to three children costs £53.
If you love sightseeing tours than the City Sightseeing's 11 stop bus tour of Windsor is great for families with older children. A family ticket for two adults and up to three children costs £30.
Who doesn't love Lego? Windsor is the UK's home of brick building fun. Ting at My Travel Monkey had a great day out at Legoland Windsor with her then toddler. Lisa at Travel Loving Family has also got some handy tips for visiting with young kids. Tickets start at £30 per person but be prepared for the price to rack up depending on the day and time of year you'd like to visit.
While we were wandering up to the Castle to see the Changing of the Guard we were passed by one of the striking yellow amphibious vehicles operated by Windsor Duck Tours. This looks like a brilliant way to see the town from land and water. Family tickets up to four people cost £60.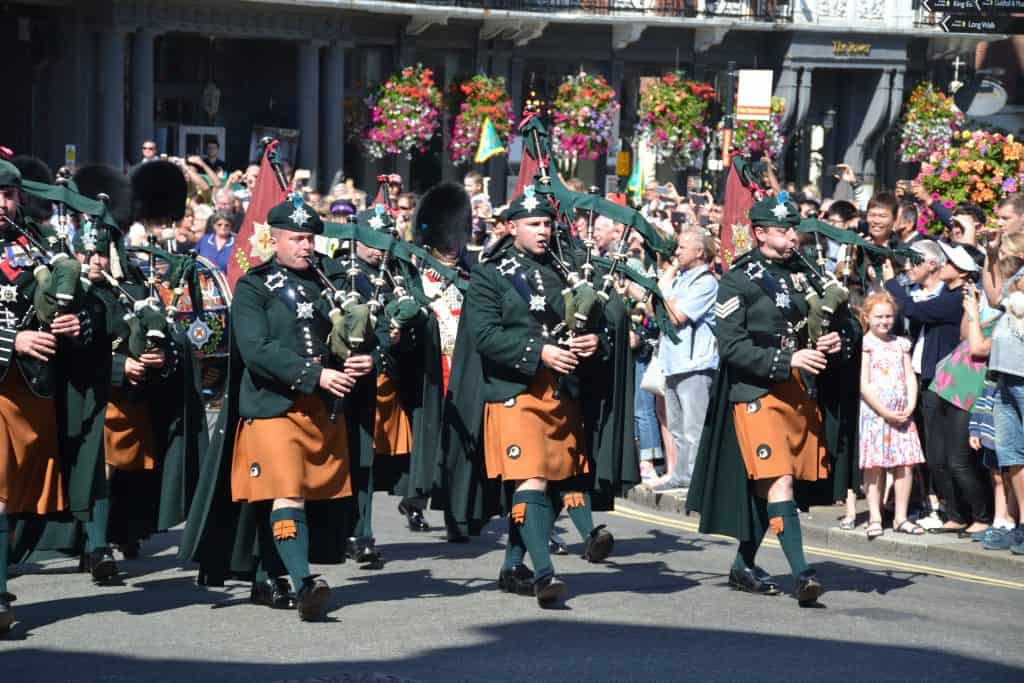 Have you been to Windsor? We was your favourite experience?
Pin for later