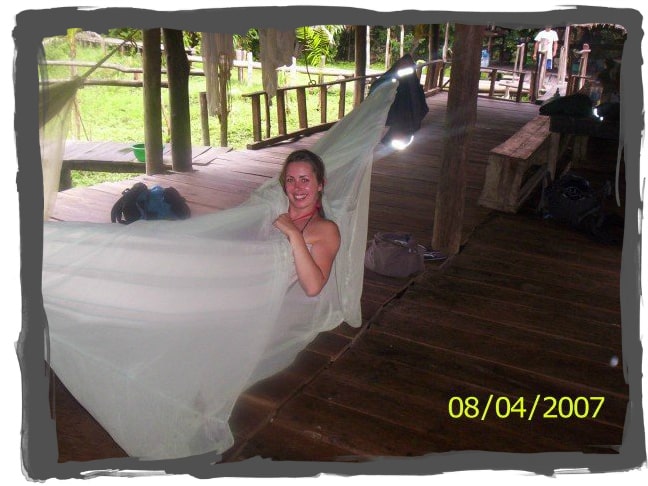 #TravelTimehop series edition #1 with Plutonium Sox
I'm very excited to be sharing this, the first edition in a guest post series inspired by a project I began just over a year ago.
Travel Timehop has been about recalling and recording my travels from the past decade. Now some of my favourite family and travel bloggers are sharing moments from their stand-out trips here too.
First up is Natalie from Plutonium Sox whose post makes me feel like an absolute amateur when it comes to adventurous travel. She's one brave lady! Without further ado, here's her Travel Timehop:
When are we time-hopping to?
This photograph was taken in August 2007. It was my last girly holiday before I met my (now) husband and my life started to change. My friend Fiona and I had decided that we were going to go to Venezuela for several reasons.
Venezuela is one of the few South American countries that has vast areas that really haven't changed that much as a result of tourism and industry in recent years. There are still incredible unspoilt areas of equatorial rainforest where native tribes live their traditional lifestyle.
It is a stunningly beautiful place with features found nowhere else on earth such as the tallest waterfall in the world, Angel falls. Plus, my friend wanted to visit all of the countries in the world that began with a V and I was more than happy to tag along.
When we went to book the holiday, we were pretty much warned by the travel agent that it was a dangerous place to visit, especially as two females on our own. He was willing to book our flights but wasn't happy about it.
I've never been one to take warnings like that seriously and with a bottle of rosé inside us, we just laughed at the words of wisdom and booked it anyway.
When this photograph was taken, I was in the Orinoco Delta in the equatorial rainforest in 
Venezuela.
  Having taken a plane journey on a very rickety little four seater and a long drive to the nearest town, we then travelled for a day up the river. Here, we were welcomed by a tribe who spoke only their indigenous language. Our guide for the journey and the only person able to speak a few words of that language was a very cheerful drunk man with a gun.
Despite the seemingly stressful situation, being completely unplugged and out of contact was actually very relaxing. As we settled down in our hammocks for the night, I was strangely comforted by tales of the tarantulas living above me that would keep the bugs away.
Plutonium Sox timehop moment
The photograph was taken soon after arriving at the camp. That night, we bathed in the river that was full of piranhas. I was so desperate for a wash that I was happy to believe the stories that they were all too well-fed to take a chunk out of us.
The following morning at dawn, I woke up in that same hammock to the sound of monsters. Their roar was deafening and they were really close by. Trying not to appear panicky, my friend and I ventured out of our hammocks. One of the tribe beckoned us over and pointed out what was making all the din.
Over the other side of the river was a group of howler monkeys calling to each other. It was one of the most amazing things I'd ever seen – and heard. If anyone tries to tell you that howler monkeys just howl, they are horribly mistaken. And if you ever find yourself in a rainforest full of monsters, you know what it is.
This photograph takes me back to that night and that last fantastic holiday before my life changed forever.
You can read about Natalie's more recent adventures with her two gorgeous girls, dogs and husband at on her blog or follow her on Twitter, Instagram and Facebook.